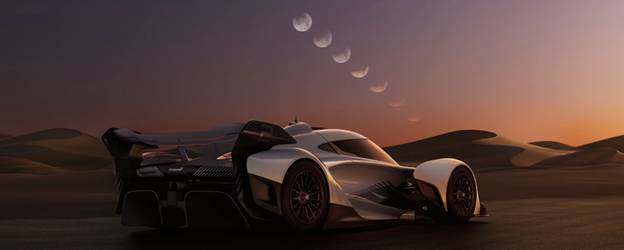 McLaren is one of the world's most recognizable luxury brands of sports cars and hypercars. The automaker constructs limited edition, street-legal cars that perform well on racetracks. Many McLaren owners take their cars to the track to see what their babies can do. Enter the McLaren Solus GT. This brand-new car, which is for driving on the racetrack only as opposed to seeing it on Jupiter streets, continues the tradition of world-class hypercars that are lightning-fast with fantastic handling. Find out more with our introduction to this new hypercar prototype that looks more like a spaceship than a sports car, including details on how many McLaren Solus GT models are being made.
McLaren Solus GT Specs
McLaren is taking sports car design to new levels with the McLaren Solus GT specs. Inspired by the Gran Turismo Sport design, the impetus for this vehicle came from racing video games. Think of this racetrack-only car as all of your racing fantasies come to life. The overall goal is to give drivers an unforgettable experience as close to F1 racing as possible without the constraints of F1 engine regs while remaining legal to drive. These race cars are so specialized, they're being limited by how many McLaren Solus GT models are being made. This is what owners will get with a McLaren Solus GT: • Seating for one • Central closed cockpit • Jet aircraft-style canopy • Unique monocoque houses a naturally aspirated 5.2L V10 engine • 10,000 rpm • 829 hp • 479 lb-ft of torque • Weight of less than 2,200 pounds • 2,650 pounds of downforce • RWD • 0-60 mph in 2.5 seconds • Top speed of over 200 mph
A Total McLaren Racing Experience
This car looks like it belongs at the 24 Hours of LeMans. Many cars that have raced at that legendary track inspired this hypercar's appearance. Drivers get an individual seat fitting and an FIA-homologated race suit, helmet, and HANS [head and neck safety] device. Radio communication technology keeps you in touch with your team on the sidelines. McLaren wants you to experience the joy of F1 racing thanks to the McLaren Solus GT specs.
How Many McLaren Solus GT Models Are Being Made?
Only 25 McLaren Solus GT models are being made in the entire world and assembled at the automaker's assembly facility in Woking, England. There will never be another sports car like this ever again.