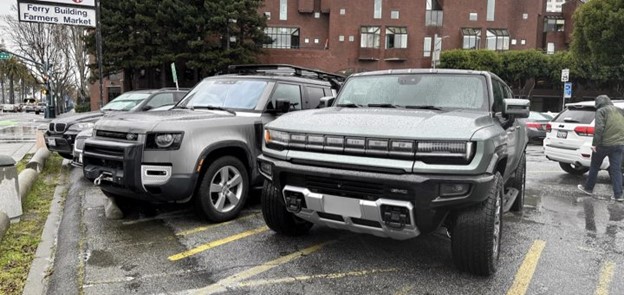 The GMC Hummer EV SUV hits the streets with a commanding presence and stance, very much looking for part of GM's cutting-edge off-roader vehicle. Indeed, this thing definitely has what it takes to turn heads, even overshadowing other off-roader vehicles like the Land Rover Defender. In fact, we'd go so far as to say that the GMC Hummer EV SUV makes the Land Rover Defender look downright underwhelming.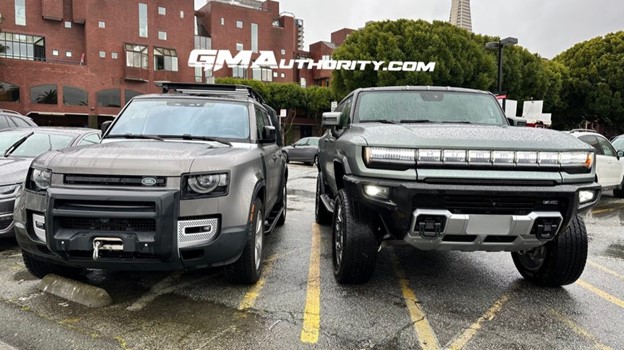 GM Authority recently spotted an example of the GMC Hummer EV SUV parked next to a Land Rover Defender 110 out in public, giving us a side-by-side comparison of the two vehicles. Funny enough, the GMC Hummer EV SUV makes the Land Rover Defender look small and narrow, even though the latter really isn't a small vehicle at all. For the sake of comparison, the Land Rover Defender 110 is 77.4 inches tall, 187.3 inches long, 82.9 inches wide, and has a wheelbase of 119 inches. Meanwhile, the GMC Hummer EV SUV is 80.9 inches tall, 196.8 inches long, 86.5 inches wide, has a wheelbase of 126.7 inches.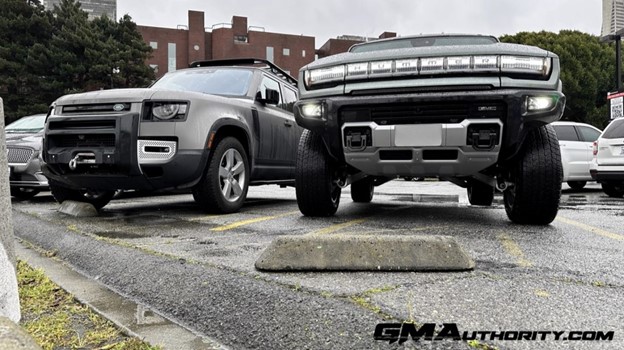 Granted, the GMC Hummer EV SUV is definitely the larger vehicle. However, the EV's proportions and styling seem to exaggerate this fact, with wide, horizontally oriented lighting elements up front, big, boxy fenders, and massive running gear all contributing to the Hummer's imposing curb presence.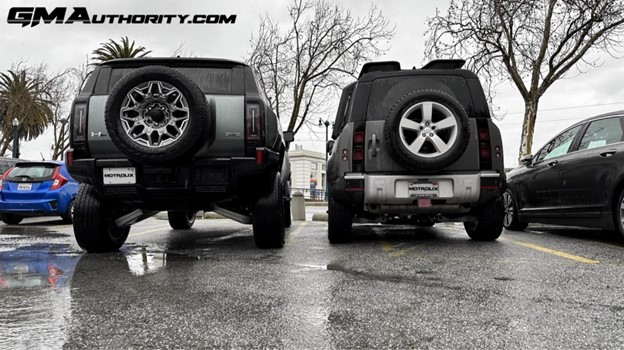 As for the specs, the Land Rover Defender is available with several engine options, including a turbocharged 2.0L inline four-cylinder gasoline engine producing 296 horsepower, as well as a electrically boosted 3.0 L inline six-cylinder mild hybrid gasoline engine producing 395 hp. Additional performance can be had with a supercharged V8 engine producing 518 horsepower.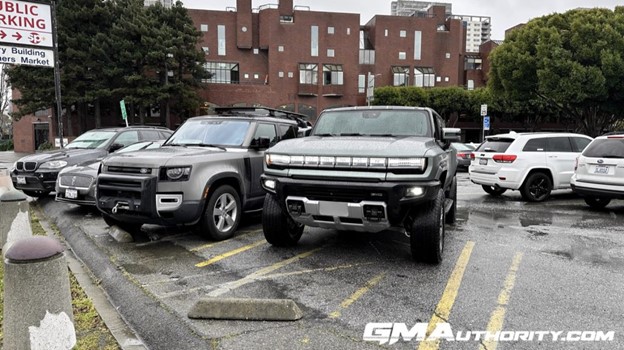 Meanwhile, the GMC Hummer EV SUV offers multiple all-electric powertrains, including both two-motor and three-motor setups. Output ranges between 625 horsepower and 830 horsepower. Under the skin, the GMC Hummer EV rides on the GM BT1 platform, while production takes place at the GM Factory Zero plant in Michigan.